Exclusive: The Ultimate Oppikoppi Checklist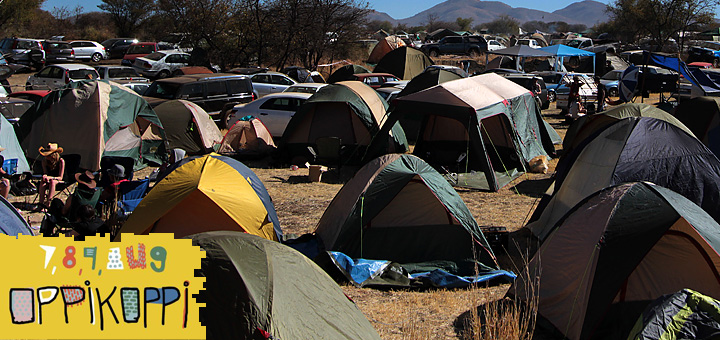 Just like a creepy criminal, Oppikoppi is just around the corner. This means you must prepare for the most brutal music festival experience this world knows. There will be dust and mayhem for a full 4 days.
Do not despair though, RadioActive Rock is here to make your Oppi experience as comfortable as possible with the most important of all guides, the Ultimate Oppikoppi Checklist. If you go to Moppifoppi with all the items in this list you will be able to wipe your ass, and sleep like a king.
Go through your house, find a nice and big spot. This spot is where you will literally dump all the things that you will take to Oppi. We shall call this pile the "Pile".
1. The Ticket
But Billy, why would you post such an obvious thing? Because this is the thing okes forget to take to Oppi the most. You get to the gate and "oh fsck, where's my ticket? Oh yes, it's still on my fscking computer." Print that sh*t right now. Put that printed sh*t on the Pile. Right in the middle.
When driving to Oppi place all the tickets in an easy to access location. I suggest the glove compartment. It's that small compartment in your car where you keep your gloves. You need to present these paper joys at the main entrance where your vehicle enters the land of Mordor.
2. Tent
You will look and feel like a hobo, but why live like one? Get a camping tent at Trappers, Makro, or even Pick n Pay Hype 'n maakit. Bigger is better. Always. Get one that is easy to assemble, and more importantly, one that is easy to dissemble. That morning after Oppi when you want to go back home, the last thing you want to do is struggle with sliding rods through holes.
3. Sleeping Gear
The days are warm and sunny. But the nights are p**s cold. Not that p**ses are in my experience cold at all. They are usually quite warm, especially around me. But bare with me, let's assume they are extremely cold for a second. You will need to stay warm and comfortable as you drift off into an intoxicated slumber. There are many ways to stay warm and cozy. One such way is with a sleeping bag. A sleeping hag will also suffice. You can also procure a stretcher. If you procure such a thing, consider also taking along a camping mattress. Remember a fluffy pillow and loads of old blankets.
I need to reiterate something based on personal experience. Blow up mattresses are way less fun than blow up dolls. Firstly, as the cold of the night starts creeping in, the air inside the mattress starts to cool down as well. After a while you find yourself sleeping on a brick of ice, and no matter how many blankets you place beneath yourself, the cold keeps on seeping through. Besides, Mordor is laced with thorns, and every single year I went with a blow up, I woke up on the ground with holes poked through my matty. That's the disappointing kind of hole-poking.
4. Gazebo
During the day the sun will pummel down and rekt your face and eyes with UV. A gazebo is a relatively cheap solution that will provide shade and will serve as the central gathering area of your camp.
5. Camping Chair
Your cherrywood dining rooms chairs may prove to be less than ideal for the harsh bushveld environment. A camping chair is an absolute must.
6. Flashlight
The night can be dark. Scientists have attributed this phenomenon to the absence of light. A flashlight creates light and will do away with the darkness. A head flashlight will do the trick. A fleshlight will do the dick. Take both along for good measure.
7. Wood and Firelighters
Every camp needs a good fire. The congregation can congregate around it to absorb the dispensed heat. So make sure you take more than enough firewood along to Oppi. You can buy bags of wood right outside the Oppi entrance for cheap cheap. You're allowed to build a good fire, but not an epicly good fire. Fires at Oppi must stay below knee-height (face-height for all midgets).
Remember to take firelighters, mainly for the purpose of lighting the fire. C'mon baby, light my fire.
8. Table
At the camp you will prepare food for breakfast. Mostly breakfast. You will end up eating breakfast all the time. You need a surface on which to prepare the breakfast. I recommend a folding table. The folding table contains a surface, which is good for placing things upon it.
9. Skottelbraai
A skottelbraai is most likely the most convenient thing in the world, and a must for Oppi. Easily cook your breakfast with the instant heat provided by gas. Remember to refill your gas bottle at a garage before Oppi. Ons gaan NOU skottelbraai.
Also bring along a kettle attachment for that first-thing-in-the-morning-DIE-HANGOVER!-coffee.
10. Coolerbox
Besides the fact that you have to keep your beers freezing cold at all times, the meat must stay cold as well. One year we forgot to put our meat in the cooler. We had to throw away tons of rotting meat and eat Simba chips for the rest of Oppi. This reminds me…
11. Ice
"What will we put in the coolerbox?" "Ice, ice, baby." Lots of it. You can literally not buy enough of this sh*t. You may even need to stop by the Oppi store to refill.
12. Old Clothes and Shoes
Clothing is completely optional, especially if you are a babe. But if you do intend on wearing clothes at Oppi, don't fsck up all the new clothes grandma bought you for Christmas. Fsck up the clothes she bought you last Christmas. Wear old rags and wear comfortable shoes. Take multiple pairs. Sore feet on the last day of Oppi can be a humongous bitch.
Take along shorts and hats or caps for the warm daytime, take jeans, jackets, beanies and scarfs for the cold nighttime. You will need them all.
13. Things to clean yourself with
You really don't have to smell like a turd covered in vomit and sweat at Oppi. You can clean yourself from top to toe. Pack a bag with your toothbrush and toothpaste, shampoo, shower gel, deodorant, etc. There are showers with running albeit cold water, as well as sinks that allows for the brushing of teeth. Remember a towel, unless you want to be wet. I will have that affect on you. In fact keep your towel handy whenever I'm nearby.
14. Toiletpaper
The human anatomy allows for the excretion of poo and pee on a daily basis. You need to sanitize your outlets with reworked trees, also known as toiletpaper. Take 2-ply rolls along. Your anus deserves the best that it can get.
There are many portable toilets available at Oppikoppi. They are however not portable. They are static in one place. You need to move yourself towards the toilet. Speaking of which…
15. WET WIPES!!!!!!!!!!!!!!!!!!!!!!!!!!!!
The toilets at Oppikoppi, those static portable ones, they are disgusting! Beyond revolting. Drunk people lose the ability to aim. This goes for both peeing and pooing. You NEED to sanitize the toilet rim and surrounding area with sanitizing wet wipes every single time you want to use the toilet.
The wet wipes are also essential for cleaning yourself throughout the day. You can wipe your face and the rest of your body as you go along. DO NOT FORGET THE WET WIPES!
16. Sunscreen
The big ball of fire in the sky will eat you alive if you don't take protection along to Oppi. Pack strong sunscreen and regularly apply the juicy white liquid to your face and body. Speaking of protection…
17. Condoms
You never know when you'll need one. Of two. Or in the case of some of the people at Oppi, a third one as well. The inspiration may strike at any moment to start a balloon party.
18. Dust Mask
As stated before. Oppikoppi is a cloud of dust. You will never see more dust in one location. Take along something to cover your nose and mouth with. Last year I contracted Bronchitis from all the dust, and I was not the only one. I was fscking close to getting full blown emphysema. This is deadly serious stuff. Cover your face holes when you walk around, even if you look like a fscktard. Everyone looks like fscktard at Oppi anyway.
19. Backpack
You're at the stages. Oh crap you suddenly feel a turd edging it's way towards your anal output. You need to go take a dump right away. But the camp is so far away and the flashlight and toiletpaper and wet wipes are all still inside your tent. Nooooo!!! Turd in pants. Literally a massive fail.
This situation can be prevented. Dump your essentials like your wet wipes, toiletpaper, flashlight, fleshlight, etc. in a backpack and go everywhere with the most important things you need to cleanse your anus.
20. Food
Most people will find that they only end up making food at their campsite at breakfast time. The other meals are easier to just buy at the stalls by the stages. So buy essential breakfast supplies, including eggs, bacon, bread, baked beans, boerewors, for all the mornings you will be at Oppikoppi. If you intend on going to Oppi on Thursday or even Wednesday, buy braai meat for the nights when the stalls are not open yet. Take essential utensils and spices and sauces along as well.
Pack snacks for in-between meals, such as Simba chips, peanuts, and VitaSnacks. Remember to pack coffee and milk and sugar to make even waking up at Oppi an awesome experience. Just kidding, you will beg for a mercy death at sunrise. No coffee will save you, not for the lack of trying. There is but one single solution to your morning torment…
21. Comprals
Don't be an idiot. The ONLY drug you need at Oppikoppi will set you back about R20 for a fsckton of tablets. And yet, you only need two of these suckers BEFORE going to bed at night to guarantee that you won't have a hangover the next day. Irrespective of how much of what what you had to drink, two of these outjies and you will feel like a million bucks the next morning. Or your money back.
If you suffer from acid heartburn, take apple cider vinegar to Oppi. Two teaspoons in water and the reflux is gone. No need for harmful trash like Eno.
22. Water
Water is essential for life on Earth, as well as for life in Mordor. You need water to rehydrate, to bathe, to clean the dishes, and to brush your teeth. Make sure to take more than enough water along. There is only one liquid more important than water at Oppikoppi…
23. Alcohol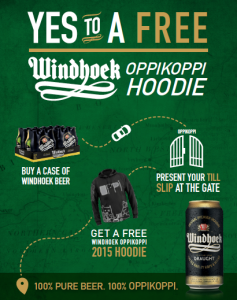 Windhoek is the main sponsor at Oppikoppi. As a result, they will furnish you with gifts galore just for drinking their beer. As per their charitable tendencies last year, Windhoek will give every person who rocks up at Oppikoppi with a case of their beer, regardless of whether it's lager, draught, or light beer, a free hoodie. Just remember to keep your till slip for the Windhoek purchase and take it along to Oppikoppi, as they need to stamp it for verification.
Along with your Windties, take along some bransh and Coca-Cola for something stronger and different every now and then. Remember to pace yourself at Oppi. You don't want to pass out with your face in sh*t and miss out on all the bands. Take some plastic bottles as well. You won't be allowed to enter the stage area with cans or glass. Pro-tip: take a 2l Coke, empty 1/4 of the bottle, refill the empty space with Spiced Gold. Attach a Bonaqua top to the Coke bottle, and you're set to go.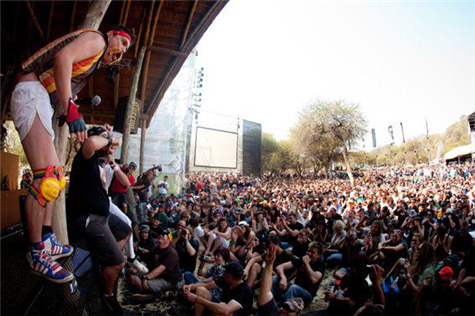 Remember to have a blast. It's one weekend where you can go to some random place in the bush and be exactly who you want to be. Do it responsibly though, we want you back home in one piece afterwards. Bottoms up.