The Darkness Releases New Single 'Barbarian', Announces New Album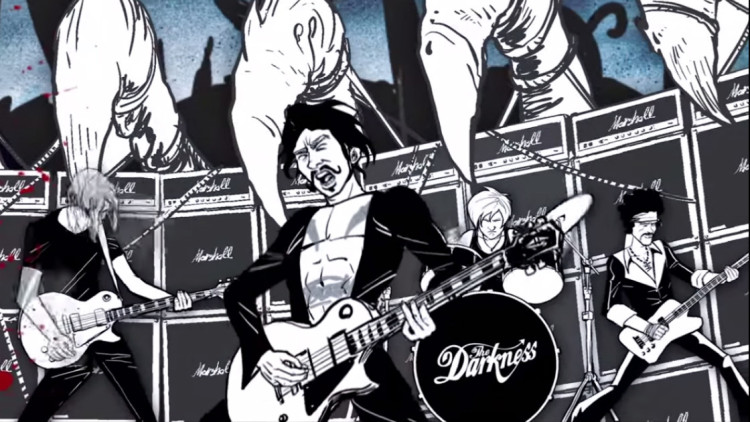 The Darkness returns with another hard rock party track. Notorious for their outrageous styles, their new single Barbarian is no different. With their iconic tight underpants causing high pitches, enjoy this comic book story event in a song.
In an interview, The Darkness' producer and guitarist, and the front man's brother, Dan Hawkins, had the following hard-core description of the new song, "Barbarian features not one but two dramatic monologues, a guitar solo that has been declared 'irresponsible', a riff that weakens lady-knees and a chorus that makes grown men sh*t directly into their pants. The lyrics describe the Viking invasion of East Anglia which culminated in the decapitation of Edmund the Martyr. So yeah, classic Darkness."
They also announced their new upcoming album. It will  be called Last of Our Kind, and it will be their fourth studio album. Their last album was 2012's Hot Cakes that spawned singles such as With A Woman and Nothing's Gonna Stop Us. The band is still most famous for their breakout album, Permission To Land. Released in 2003 it gave birth to such modern classics such as I Believe In A Thing Called Love and Love Is Only A Feeling. (I know you're trying to reach those high notes in your head right now. Just give up.)
Here is the album's full track list:
1. Barbarian
2. Open Fire
3. Last of Our Kind
4. Roaring Waters
5. Wheels of the Machine
6. Mighty Wings
7. Mudslide
8. Sarah O'Sarah
9. Hammer and Tongs
10. Conquerors
Last of Our Kind will be out on June 1st.
The Darkness also welcomed a new drummer into the fold. Her name is Emily Dolan Davies.
A woman you say? You'd think she couldn't possibly have skills and that she is not in the kitchen where she ought to be. I'm quite sure she does all the cooking and cleaning for the band, as she should be doing, but make absolutely no mistake, she can drum. She played for a band called The Hours, as well as Bono from U2.
Well, are you ready to "sh*t directly" into your pants? Here below is the new The Darkness song, Barbarian, ready for your soiling. Also listen out for it on RadioActive Rock.
What do you think of the new Darkness? Let us know in the comments below.