Steel Panther Blasts Kanye West in New Video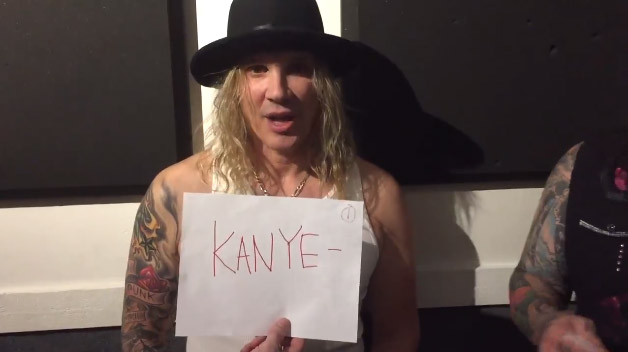 We all sympathize with mentally challenged individuals. Hence why we feel for Kanye West. I mean, the man must really be suffering, especially considering that he genuinely thought that Beyonce deserved to win the Album of the Year Award at the 2015 Grammy Awards instead of Beck. Whilst we can think of many artists in this world more deserving of the award than Beck, we sane individuals do not consider Beyonce among these.
So following "the voices" inside his head, Kanye went on stage during Beck's acceptance speech with the initial intention of grabbing the microphone and calling Beck a crappy artist, but then the voices changed their minds so Kanye walked off the stage. This sparked outrage from most people who gives a crap, including Beyonce herself, with people taking to the internet to vent. We feel this is unfair. What Kanye needs is love and therapy.
Even KISS' Paul Stanley joined the evil anti-Kanye mob by saying, "Beck should've kicked Kanye right in the nuts and said, 'Get the f*ck off my stage!'". Now Steel Panther took this harsh sentiment and turned it into a disgusting song about kicking retards in the nuts. They posted this song on their Facebook page. Click play below to watch this travesty.
What do you think of Steel Panther making fun of mentally challenged persons? Let us know in the comments below.