Someone Leaked the New Nightwish Song, and the Band is Very Angry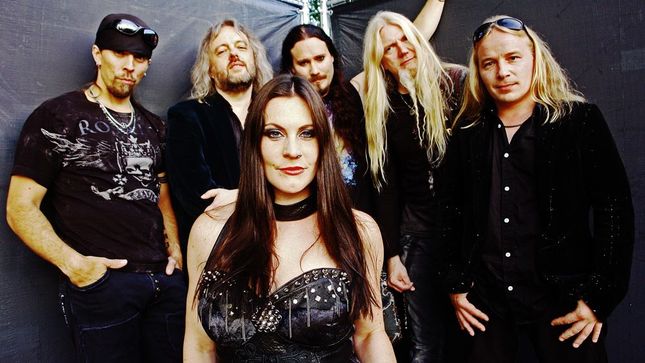 Finnish symphonic metal band Nightwish will be releasing their first new single in years in the coming days, but someone who had access to the song already shared it online for anyone to download, and this didn't sit well with the band.
The new song is called Élan and was uploaded to a publicly accessible Google Drive by a person named Domenik Olzon from Mexico. He/She (we can't determine the sex of the person) then shared the link to the file on Facebook. Someone alerted Nightwish to this and Nightwish responded by taking a screenshot of Domenik's post and sharing it for the world to see.
Although it seems as if most of the band's fans supported the band in exposing this person publicly, some felt it was unnecessary to reveal the identity of the person since it could endanger his/her life and privacy. So after a ton of flaming by people in the comments in that post Nightwish decided to release a statement. In ALL-CAPS of course because, you know, the band is ANGRY.
OUR INTENTION WAS NOT NECESSARILY TO ATTACK AN INDIVIDUAL PERSON, BUT TO RAISE AWARENESS THAT SPREADING UNRELEASED PROPERTY THROUGH INTERNET IS NOT SOMETHING THAT ANY ARTIST WOULD LIKE TO SEE HAPPEN. THIS IS ABOUT OUR MUSICAL PROPERTY AND THE ABUSE OF IT, WE ARE NOT ANONYMOUS, EITHER. THIS KIND OF THING CAUSES IRREPARABLE HARM TO COUNTLESS PEOPLE WORKING IN THE MUSIC INDUSTRY WORLDWIDE. NOT ONLY FOR THE BAND.
Domenik Olzon in the meantime changed his/her name on Facebook to Domenik Gutierrez. He/She then proceeded to flame Nightwish back on his/her Facebook page using the traditional Mexican style of grammar and spelling.
Ok dear nigthwish,

"OUR INTENTION WASNT TO ATTACK AN INDIVIDUAL PERSON…."

YES im affraid, a lot…..
but have you thought in the consecuenses?
you wont be affected alot, you'll lose money for
a "leak" from a shitty-quiality song?

BUT WHAT ABOUT ME?
thanks to that rant from you,
now people are ATTACKING ME….
INSULTING ME, AND SAYING LOTS OF BULLSHIT….

IF SOMETHING HAPPENS TO ME,
YOU'LL BE THE RESPONSABLE FOR
WHAT HAPPENS TO ME…

WHY THE FUCK YOU DONT ERASED/BLURRED
THE F*CKING NAME… OR EVEN THE F*CKING PICTURE?
HUH?

Now…..
I THINK YOU Nightwish MUST APOLOGIZE,
THAT WASNT THE WAY TO "SOLVE"
THIS ISSUE, EXPOSING ME, MY INFO,
MY PICTURE….

BUT THANKS,
A BIG, REALLY BIG HUG FROM MEXICO…..

YOURS SINCERELY.

P.D.
WHY MAKING A ENORMOUS DRAMA?
XOXO'S
So much anger. So much drama. Who needs The Bold and the Beautiful? Throw in some sex and we're good to go.
But this all does throw a lot of focus on the issue of piracy and copyright infringement. Most bands would keep quiet about something like this and let it slip, but recently more and more bands are speaking out against piracy and how it affects their livelihood. This does take it one step further though and some passionate Nightwish fans may threaten 'ol Domenik. I mean he is in Mexico. Where does one draw the line?
The new Nightwish single Élan is available for pre-order right now. The new Nightwish album Endless Forms Most Beautiful will be released on the 27th of March.
Do you think Nightwish acted appropriately? Let us know in the comments below.