SA's Witchfest 2015 Changes Venues Again, Makes International News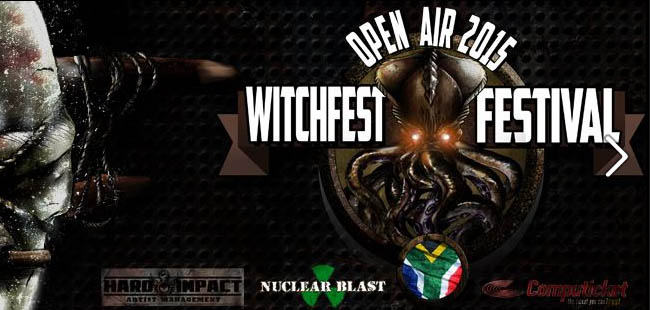 Witchfest Festival (a festival so festive it needs to make a reference to "festival" twice in it's name) is bound to be South Africa's biggest single metal music event to date, featuring some of the biggest metal bands on the planet. Now this festival is making international news because the organizers were forced to change the venue of the event for the third time due to pressure from the religious community in South Africa.
South Africa is in most parts a very religious country, with some very vocal churches and religious folk. So when the venue for Witchfest (can you just imagine) was announced, it was bound to be just a matter of time before the nearby religious community would try to impose their beliefs on others using blackmail in a country where we are all free to believe whatever we want.
Now the metal scene in South Africa is huge and this crowd tends to be very hungry for metal. Unfortunately South Africa is one of the most expensive countries in the world for a band to tour, mainly because you need to spend so much on getting the band and equipment to the country for just a couple of shows. There is no market for metal or rock in the rest of Africa. Whereas if a band tours Europe, you only need to fly your band and equipment down once for a full tour of the continent. That makes better financial sense. So naturally when the great Witchdoctor Productions announced the Witchfest Festival festive festivities, which features such massive metal bands such as Cannibal Corpse, Epica, Hatebreed, Decapitated, Kataklysm, Septicflesh, Fleshgod Apocalypse, Grave, Carnifex, Skinned and Alestorm among many others, the metal community made dirty little white stains in their underwear. A metal festival of this scope is not just big in South African terms. Reading comments on this story on big international rock and metal websites such as MetalInjection and Metal Hammer you realize that massive metal festivals this size simply doesn't happen abroad. You may get exceptions like Wacken and Download, but that's it. So we can count ourselves truly lucky.
So now you can imagine how irritated metal fans are at this stage due to some religious people not understanding what metal is. We all know it as a genre of music, which it is, but the religious folk see metal as "satan-worshipping" or something, which it most definitely is not. Hell, you get religious death metal bands. So I guess we can all agree that these guys are quite narrow-minded, using blackmail tactics on the owners of the farm where Witchfest Festival was supposed to take place in the Hartebeespoort area near Pretoria and Johannesburg. In fact the owners of the farm told the organizers that the festival can only still take place there if the organizers buy the farm themselves. Of course this is ridiculous so the organizers declined the offer. A real pity. It is a beautiful place with big mountains and a massive dam, popular with local holiday makers.
The venue for the event has now changed to a place very close to Lanseria Airport in Johannesburg. So I guess it's still relatively close to the cities. There will be free park and ride facilities at the airport to the venue, which is awesome. You can still camp at the new venue, but there are other accommodation options available close to the venue as well. All tickets sold are still valid. So nothing is really lost here.
Lamb of God bassist, John Campbell, had this to say about all of this:
I've been there playing metal music, I can back you up that [South Africa] is a great place. I hope to get back there again on our next tour cycle.

The good news is that in the long game, science wins out over religion.

It was memorable, to say the least. I hope you guys could sense the passion and gratitude we felt in being able to play our music for you guys, monstrous crowds or otherwise. Lakker man, lakker.
'Lakker' boet. So if you don't have tickets to Witchfest Festival 2015, one of the biggest metal festivals on Earth, make sure you get them right away. Go to the Witchfest website at www.witchfest.co.za.
Do you have your tickets? Which of these bands are you excited to see? Let us know in the comments. Anti-religious remarks will not be allowed. Let's have a constructive conversation instead.