Puddle of Mudd Frontman Arrested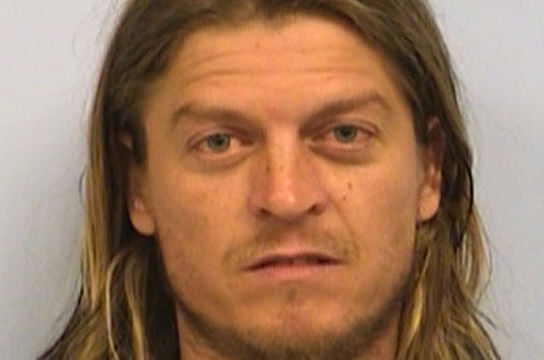 Puddle of Mudd lead vocalist and lead guitarist, Wes Scantlin, has been arrested at the Denver International Airport for… riding the airport terminal's baggage carousel, taking him inside a restricted zone. He was immediately taken into custody by local police.
Puddle of Mudd were due to play a show in Denver the evening of all this happening and the organizers, Rock Panther Presents, had to jump around to try and get the man freed from jail in time for their performance. This is what they had to say about all this on their Facebook page:
So if you haven't heard yet Wes the lead signer from Puddle Of Mudd decided to take a joy ride on the carousel at the airport this morning thru restricted access and got arrested. We have been on this all day and he is just about to be release from Jail and will head straight to the venue. The show will go on but that is why we are running late.
They hardly sound impressed. In fact they also had this to say (excuse the spelling mistakes made by the guy): "I apologize too all of those who left early. I hope you enjoyed Lola Black, Horse and Drug Under. Those of you that stayed, I hope you love Puddle of Mudd cause we will NEVER book them again." Damn. At least they got one of the fans to bail Wes out of jail, so the show did get to go on.
This is not the first run in with the law that Wes had. He's been a very bad boy over the years. In 2002 he and his fiancé got into a big fight next to the road. He forced her into a car that someone else was driving. They were pushing and shoving each other and both were arrested for allegations of domestic abuse.
In 2004 Wes got so insanely drunk during a live Mudd show that his fellow band members left the stage after just four songs. Wes kept playing, singing random words he made up. The crowd in turn bombarded him with food and other objects, and Wes returned the favour by throwing the stuff back, spitting at the crowd and swearing at them. He was then arrested for disorderly conduct while intoxicated.
In 2012 Wes was arrested yet again for public intoxication when he acted like a dumb-ass on a flight between Boston and Los Angeles. The plane had to make an emergency stop in Austin, Texas to get him off the plane. In 2013 he was yet again arrested for domestic abuse.
He also got into trouble when he failed to pay $45,000 in taxes in 2012, for swimming in a restricted pool in 2007, and having an on-stage meltdown during a show in 2014. He threatened the audience and threw the microphone at the crowd. Apparently he was also caught lip-syncing during a live show.
Hopefully the man, who is the only remaining original member of the band, can pull himself together and finish a great tour for Puddle of Mudd. They just released a new single called Piece of the Action. Take a listen to it now, or listen out for it on RadioActive Rock.
Do you think Wes needs to grow the hell up? Leave your comments below.