Meet Ladybaby. It's Babymetal With One Big Baby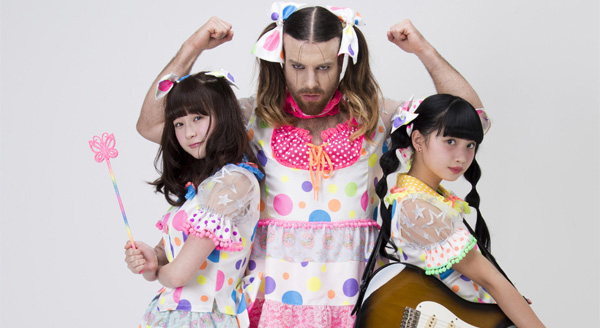 Welcome. You have now officially reached the end of the internet and it's time to switch the PC off.
We make no secret of the fact that we here at RadioActive Rock are massive Babymetal fans. They are ridiculously adorable, and coupled with the fact that they do J-Pop metal and do explosive and massive live shows, makes for a crazy fantasy dream come true.
But this is reality, and unfortunately it seems as if every sweet dream must be balanced by a hideous nightmare.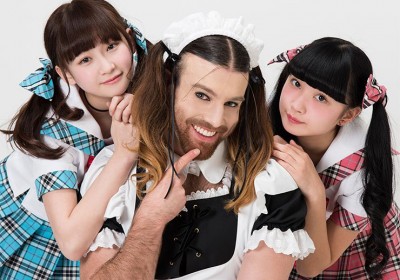 Enter Ladybaby. It's like Babymetal, but with one physically big difference.
As you may know, Australia is filled with many wild and dangerous creatures, and it may now seem as if one of these beasts have escaped to the land of fantasy and wet dreams, Japan.
As if Japan wasn't fundamentally f*cked up already with all their hentai, strange anime, penis-shaped lollipops for kids, and far-out religions, we now have to deal with whatever the f*ck this is.
Ladybaby consists of Rie Kaneko (17), Rie Kuromiya (14), and of course Ladybeard (waaaay too old to be near the other two). Ladybeard is in fact the aforementioned escaped Australian creature who entered the country to cause mass destruction, much like the fabled Godzilla himself.
The trio released one song on YouTube so far called Nippon Manju, which translates to Japan Bun. It features the three as they walk and dance through the streets of Tokyo, singing praise to the great nation of Japan. It includes as haunting lyrics as "Japan goo lollipop candy, Japan goo rock, scissors, paper, rock".
Well two of them are singing. The big one growls in a deep unharmonic satanic demon voice. Yes, he literally does this as he walks and dances through the streets. What bothers me is the fact that nobody in the background seems to be phased by any of this at all. That is how normal this sh*t is there.
You may ask, who is to blame for the very existence of this seemingly illegal creepy creation? It's a costume company called ClearStone. They fully fund Ladybaby as long as the trio keeps wearing their uniforms in their videos and during performances.
Ladybeard says he has always been fascinated by the attention cross-dressing brings. At the age of 14 he first wore his sister's school uniform to a party, and he really enjoyed the attention he got. Besides being a metal singer and cross-dresser, he is also a professional wrestler. Thank you and goodnight.
Ladybaby's debut album will launch on July 29th.
Here is the video for Nipon Manju by Ladybaby. Don't click on play. You have been warned.
Oh, and there is also this…