Marilyn Manson Got Punched in the Face at Denny's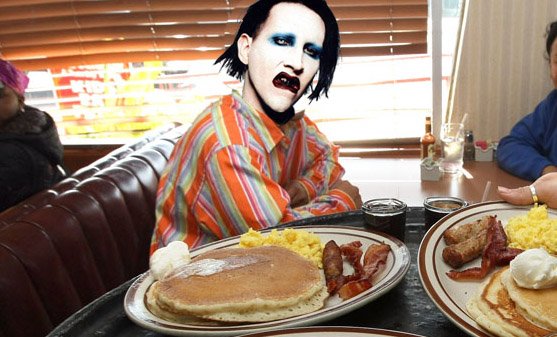 It's no longer just allegations. It happened. Just when you thought his face couldn't be more messed up, Marilyn Manson got punched at a Denny's diner at 2:00am on Saturday in Canada.
Marilyn alleges that he was sucker punched out of the blue by a stranger at a Denny's in Alberta, Canada. Manson did a show in Alberta earlier that night, and was hungry after the show, so he went to Denny's for a breakfast.
Manson says he did not instigate the fight, but according to sources he apparently called a guy's girlfriend a "bitch" in front of the entire restaurant. The guy then responded by snot-klapping Manson with a fist.
Manson's version claims that two girls from this group came to his table to pose for a photo with him, and he gladly obliged. He says he never called anyone a "bitch". The assailant then came out of nowhere and attacked Manson, when Manson's security grabbed the guy and pulled him away. The man shouted something about blowing up Manson's next concert. Manson says the attacker also shoved his elbow into the face of his make-up artist.
Manson said that he will sue the attacker.
Both parties will file charges at Alberta police.
Comments below.