Local Rock Legends WONDERboom Is Going To China
WONDERboom head to China this weekend to perform at The Silk Road Indie Music Festival taking place in Chengdu from 1 to 3 December. This is the band's first tour to China in their 21-year career span and follows fresh off the release of their latest studio album, Rising Sun.
The Silk Road Indie Music Festival is a festival hosting bands from 14 different countries on a competitive platform. Crowd votes determine the winning band/country, which will be announced on the 3rd of December. WONDERboom will be performing on the main Saturday night line-up with key International press and media covering the event.
How did this all come about for WONDERboom? The Maritime Silk Road Music Festival and The Maritime Silk Road Music Industry Platform are developing music trade ties between China and international countries in music production, artist talent development, music education, technology innovation, concert performances and music content sales. Well-known International music consultant and label owner, Adrian Skirrow, is the South African representative and is very excited at the prospect of showcasing one of South Africa's premier music outfits.
"WONDERboom's blend of high energy live performances, musicianship and blend of African flavoured pop hits is certain to set the bar high during the Silk Road festival and attract new audiences. The festival, now in its second year and almost double the size of 2016's successful event, is being attended by more entertainment executives and media from around the world this year. WONDERboom's performance will be broadcast on regional TV stations and packaged for national TV broadcast at a later date, offering the band an enviable platform to reach many millions of viewers and new music fans, via China's massive mobile media network, with their unique sound and image. The Silk Road Festival in Chengdu will see WONDERboom compete against some acclaimed performers from 13 other nations," comments Skirrow.
The Festival and Platform are under the official authority of China's "Belt and Road" initiative and has officially begun operations.  It was established at a conference and pre-launch festival in Ningbo, China in November 2016, and more recently an international music industry forum during April 2017. The Festival and Platform are now rapidly expanding throughout China.
In November 2016, artists from eight countries were invited to perform at the Ningbo Maritime Silk Road International Music Festival.  The music festival successfully introduced and marketed international artists to Chinese audiences and promoted Chinese pop artists to world markets. For 2017, 13 international performing artists, along with Chinese pop artists will compete for most popular international act honour, across three days of music and celebrations.
WONDERboom are the second SA artist to perform at the Silk Road Festival in China, following the inaugural event in 2016.
Cito is so excited for the weekend! "It is a dream come true for us to rock out in China! It'll be interesting to see how we go down with fellow music-lovers in Chengdu. Home of Panda Bear conservation and ancient culture and history, I know that this city will blow our minds! And to find ourselves representing South Africa again, after our memorable Global Battle of the Bands 13 years ago, is seriously a surreal thought. Please keep us, our journey and our performance on Saturday 2nd of December, in your hearts!!!"
WONDERboom return to SA shortly after to continue their Rising Sun album tour.
WONDERboom 'Rising Sun' album tour:
1 to 3 December – The Silk Road Indie Music Festival – Chengdu, China
9 December – Jock Pub & Grill, Nelspruit
22 December – Cheers Pub, Kimberley
23 December – The C Club, Chintsa (with Prime Circle)
24 December – Knysna Yacht Club, Knysna (unplugged)
25 December – Music Kitchen, Port Elizabeth (unplugged)
26 December – Vinyl On Main, Knysna
27 December – Gecko Bar, Hermanus
28 December – Brass Bell, Cape Town
29 December – Quay Four, Cape Town
30 December – Bertie's Mooring, Gordon's Bay
31 December – Rumours Rock City, Johannesburg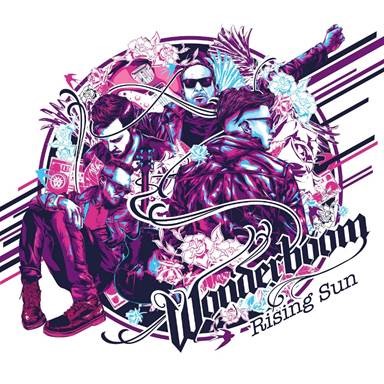 ABOUT THE ALBUM RISING SUN
Rising Sun is a triumphant release from WONDERboom and is packed with 11 powerful songs. Album opener Humans launches the album with that distorted guitar-riff driven, kick drum stomping, dirty Rock & Roll sounding, fist-pumping anthem WONDERboom delivers so well. Southern Light is the current single from Rising Sun receiving love across SA radio, and with previous singles Great Escape and Ooh La La already fan favourites, these three singles are just a taste of what Rising Sun holds. The rest of the album is just pure magic listening to singles such as Hell, Praying Mantis, In Place Of Something, and Shark Bite.
WONDERboom are so excited for fans to hear this album! "For the first time EVER, we took our time and were extremely meticulous with the whole production process. Sometimes we'd re-record, other times we'd just scrap, but every song on Rising Sun is meant to be there and pretty much the cream of the crop. First album with Jono on drums. I think fans will get a sense of 'Damn, you worked hard on this record!' The attention to detail, the energy, the musicality, the soul… It's all in there. We had a motto for the album and that was 'GO THERE!' No half-arsed attempts at any song. It's heavy, it's beautiful, it's epic," comments Cito.
WONDERboom have cemented their legendary status. 21 Years in the industry, 8 albums released, headlined many major SA festivals, been nominated for 5 SAMA's (South African Music Awards), and won a Kanna Award & People Crystal Award in 2003 for South Africa's hottest band. They also won the South African leg of the 2004 Global Battle of the Bands & came SECOND WORLDWIDE! There can be few South African music fans that aren't familiar with their hits, like Never Ever, Jafta Rebel, Something Wrong, Green Fever, Africa, Shadows, Charlie, It's Great to be Alive, Best Side, On The Radio, and Karaoke Bar.
Rising Sun adds to this impressive list as we salute SA's favourite Rock band, WONDERboom.
If you think you know WONDERboom and you have your favourite song from watching one of SA's most iconic Rock bands grow from strength to strength over the past 21 years, but you haven't heard Rising Sun, you're in for an amazing surprise. Your favourite song is on this album.