'Half a Billion' Would See An Oasis Reunion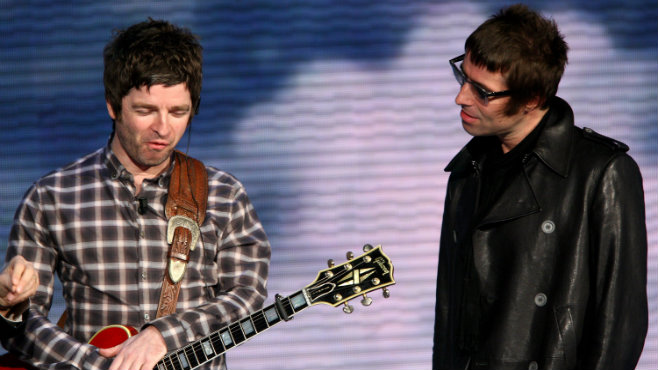 It's a famous sibling rivalry that saw the decimation of one of the biggest bands of our time. Liam and Noel Gallagher of Oasis has been at each other's throats for a very long time. In 2009 this rivalry caused the end of Oasis. Liam Gallagher went on to create a band called Beady Eye with other Oasis members, and Noel Gallagher went on to create Noel Gallagher's High Flying Birds. Beady Eye in the meantime broke up last year.
Speculation of an Oasis reunion started in March when Liam Gallagher (not to be confused with the baby in Shameless) was seen with a backstage pass to one of his brother's live shows. Adding fuel to this fire was when The Daily Mirror reported that the brothers made up and are on good terms now, and are in discussions to revive Oasis, and even made a gentleman's agreement to such effect.
Noel quickly rebuked such claims calling them "disingenuous". "There was a rumor last week that we've had a gentlemen's agreement," says Noel, "but that rumor's come from (Liam's) people. It's a source close to him, and I'll tell you how close it is – she probably wakes up with him every morning."
Liam didn't like this response from his brother. In fact he lashed out at him on Twitter, comparing him to a UK TV show host, saying "I see Noel Katie Hopkins Gallagher is talking out of his slack arse again go and polish your SAXAPHONE (sic) Ha ha LGx"
I see Noel Katie Hopkins Gallagher is talking out of his slack arse again go and polish your SAXAPHONE Ha ha LGx

— Liam Gallagher (@liamgallagher) May 6, 2015
So I guess we won't see an Oasis reunion anytime soon. Unless some record company offers them ridiculous amounts of money to reform. Noel Gallagher is known for saying that "half a billion" would get him to reunite the band for more albums and tours.
Oasis of course broke up after a massive backstage fight that took place between Noel and Liam in 2009. When they did one of their last shows ever in Johannesburg, South Africa during Coke Zero Fest, the band had what seemed like a breakdown on stage, with the crowd booing them off.
Perhaps Oasis is best left in the past.