Freedom Fest Postponed Indefinitely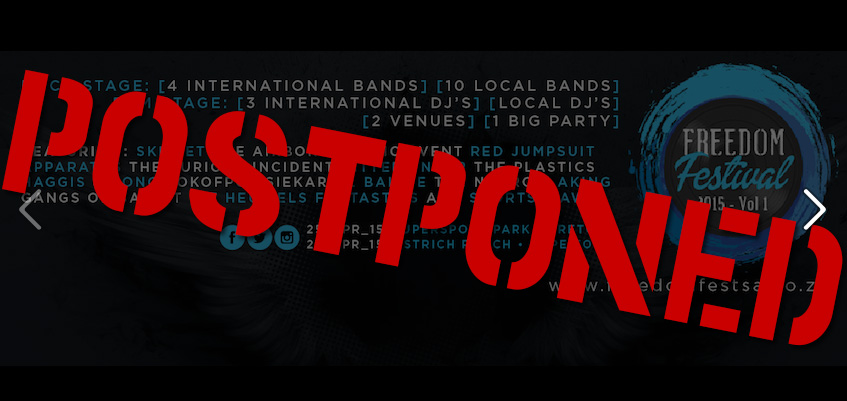 People in South Africa really do take it in the backside constantly, and without consent. As if Eskom, Xenophobia, eTolls, Zuma, and pretty much every government department in this country isn't enough of a widening of the anus, the small patches of happiness we still experience, like our music festivals, are taken away as well.
We are so over hearing "due to unforeseen circumstances" when local festival organisers take away our small sources of happiness. But bear with me as we all have to hear those dreaded words one more time.
Due to unforeseen circumstances beyond the festival's control which can not be resolved before the dates of the festival, the festival has been postponed.
New dates for the festival will be advised in due course.
These are the rectum-ripping words posted by Freedom Festival organisers just days before the event. The event was going to take place this coming weekend in Cape Town and Pretoria, and would've featured Skillet, The Airborne Toxic Event, The Red Jumpsuit Apparatus, some other international band nobody knows or cares about, not Flyleaf, and some local bands including The Narrow and Bittereinder.
Now these events have been essentially canceled and will be rescheduled at a later date. We don't know when or where this will be or what bands will be able to play the new dates, so we may even lose some acts. Perhaps we may even gain some. Who knows?
What these "unforeseen circumstances" are we can speculate about til' death. The organisers don't want to let us know what's going on. Was it the venue? Was it a band cancelation? Why can we not see "unforeseen circumstances" before we make our tickets available for sale?
You can hold onto your tickets if you want to attend the new yet-to-be-announced dates, or you can request a refund. Details on the Freedom Fest website.
Either way, this coming long weekend we were all looking forward to a great day out. Now we can only hope to attend someone's braai or watch a new Game of Thrones episode. Perhaps all the remaining characters gets slain and the dragons eat Daenerys Targaryen. (That's the dragon-lady with the nice boobs by the way)
So to recap, this year so far we had no RAMfest and no Freedom Fest.