Embarrassment for Five Finger Death Punch as the Band Has a Meltdown on Stage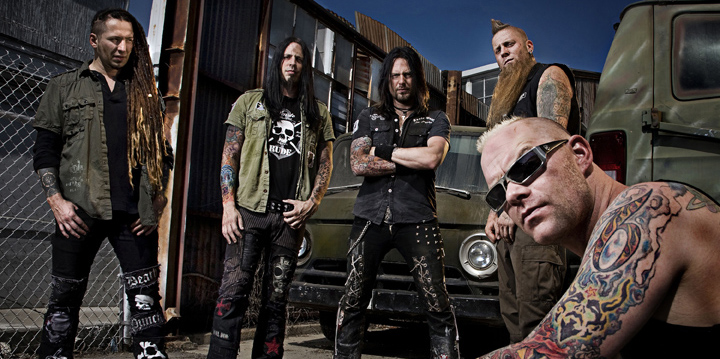 It seems like not all is well at the Five Finger Death Punch camp.
Yesterday the band had an on-stage fall out in front of hundreds of fans at a show in Memphis, Tennessee, USA.
From what we can tell, the band's vocalist, Ivan Moody, and drummer, Jeremy Spencer, had an altercation. At some point Moody even raised two middle fingers to Spencer's face for a long period of time in front of all their fans.
It started with Moody asking the crowd if they got their copies of the new book about the band, Death Punch'd, which was written by Spencer. After this, apparently not knowing that his mic was still on, Moody said to Spencer, "…(something) that I had nothing to do with". At this point Spencer threw his sticks and walked off the stage, with the rest of the band following. Then Ivan continued talking, saying random things, after which he as well threw the mic to the ground and left the stage.
A few minutes later Moody returned saying that he "obviously pissed somebody off" and that his "entire band has left". In-between he was singing random FFDP lyrics, asking the crowd to join in, and he also played around on the drum set.
After a while the rest of the band returned to the stage trying to salvage whatever was left of the show. They played one song, which sounded terrible, all the while as Moody kept inciting Spencer by standing next to him and agitating him. After this the band left the stage for the second time.
This whole tantrum-throwing routine repeated itself a few times, to the utter dismay of the fans at the venue. People who paid lots of money to come out and watch the band live.
Many people took to social media to voice their discern. The general conclusion by those at the venue was that the band is done for.
In response to this, Moody released a statement on the band's Facebook page to apologise for what happened and to assure the fans that the band is still together and all is still well. He says that technical difficulties were to blame for the flaring tempers, and he assured that this will never happen again. To make up for the meltdown he also teased a part of a brand new song in the post called This Ain't My Last Dance. Read the post below:
Here are a few fan videos of what happened:
If you're in a band as big as Five Finger Death Punch you simply can't afford little bitch infights like these to be exposed to your fans. You will lose them forever. Work your shit out after the show, or before. Never on-stage.
Comments below.